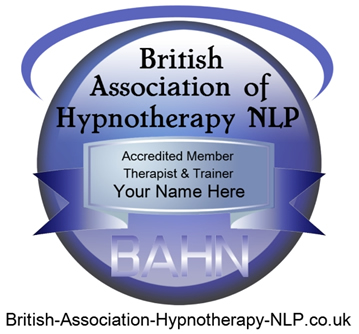 A web link from this official BAHN site to your web address is put in place for you to benefit from our advertising marketing campaigns and PR so that potential customers can contact you in order for you to get a continual stream of clients to maintain a healthy income. Some of our members are contacted for TV work, radio interviews or by the NHS to conduct a seminar to educate others on Hypnotherapy and NLP.
All members can use the letter MBAHN after their name "Member of the British Association of Hypnotherapy NLP" (BAHN)". You will receive help and advice on where to get the best insurance. We offer continual ongoing help and support through our helpline with advice on clients and students if needed. You are invited to meet up groups so ideas can be exchange keeping members up to date with current thinking methods, training courses, practical therapy techniques and any other fields of Hypnotherapy, Psychotherapy and NLP. We offer members the chance to purchase copyright free hypnotherapy audio CD's for stopping smoking, lose weight, stress relief, improve study habits, focus of concentration, boosting confidence, pre-talk and induction backing track that you may copy to sell to your clients to maximise your business profits. These CD's are only sold to our members with free copyright. A discounted member's rate is offered on scripts and written course material that can be used to further your knowledge of NLP and hypnotherapy. To be eligible for acceptance to this organisation you must first read our code on practice and agree to all the terms stated, then download the application form from the link below. We will contact you for an interview once we have received your form. If your application is accepted, and to be fair many are not on ethical grounds, then we kindly ask for annual subscription fee of £45 for therapist to cover our cost, however your first twelve months is free and trainers may join for free with no annual fee.
Download membership application form
We look forward to hearing from you and building a professional future together.